Betting Odds for Tapiture to Win Kentucky Derby
You may have heard the name before but it wasn't until just this week that Tapiture became an actual legitimate threat to win the 2014 Kentucky Derby. The below Kentucky Derby betting odds will give you insight into just how likely Tapiture is to win the first leg of the Triple Crown on Saturday.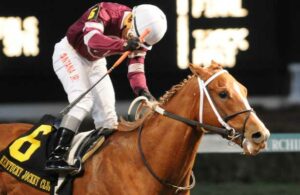 Tapiture is a Kentucky thoroughbred that has a legitimate chance to make noise in the 140th Kentucky Derby. Tapiture is trained by Steve Asmussen who is most noted as training Kentucky Oaks winner Rachel Alexandria. Winchell Thoroughbreds owns the horse and the farm looks finally break through and produce a Kentucky Derby winner after coming close in past Derbys. Tapiture's most notable win was the Grade 2 Kentucky Jockey's Club. Tapiture also won the Southwest Stakes which is held at Oaklawn. Equibase ranks Tapiture as the number 22 horse for 2014 in terms of winnings.
Tapiture has already had success at Churchill Downs. Could the horse's familiarity with the course translate into a Kentucky Derby win? While the field of the Kentucky Jockey's Club is weaker than the elite Kentucky Derby, there is something to be said about a horse who likes a particular course. Tapiture's pedigree involves Tapit, Free Spin and Olympio. This thoroughbred has the genetics of a champion; it will be interesting to see the horse can bring home the Run for the Roses on May 3rd 2014.
If Tapiture does win the Kentucky Derby, you will most likely see lucrative betting odds beside the horse's name before the big race.