Dance with Fate Kentucky Derby Betting Odds
If you have any plans to bet on the Kentucky Derby online or in person this year then we suggest taking a look at Dance With Fate as a top favorite to win Kentucky Derby 2014. Below you will find the latest Dance With Fate Kentucky Derby betting odds currently posted at online sportsbooks.
Only 70 miles from Churchill Downs, Dance with Fate went on to win the Bluegrass Stakes at Keeneland which automatically qualified the thoroughbred for the Kentucky Derby. At first, trainer Peter Eurton was reluctant to allow the horse to run the Kentucky Derby. Eurton was bothered by the 3 week turnaround time between the Derby and the Bluegrass Stakes. Another point worth noting is the fact that Dance with Fate has never run on a dirt track.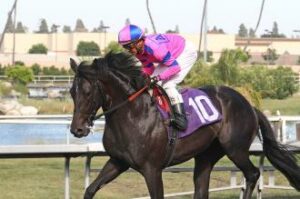 Although Dace with Fate has won over $525,000 alone this year, the horse is still only ranked #12 on Equibase and the horse is not rated at all on ESPN's horse racing power rankings. This shouldn't deter you because Dance with Fate will leave the gates with long odds. If Dance with Fate rallies in the Kentucky Derby the way he did at the Bluegrass Stakes, you can expect the horse to surprise the 100,000+ strong at Churchill Downs.
Corey Nakatani will get the ride aboard Dance with Fate and the duo will likely perform well if the track has less than ideal conditions. Since Dance with Fate is a synthetic specialist, many analysts feel like a sloppy track might benefit the Kentucky Derby contender.