Hoppertunity Kentucky Derby Favorite
If you have been following along with these year's top Kentucky Derby betting picks then you might have already heard of California Chrome. Today, we want to tell you about another pretty special horse that is not getting the same media attention that California Chrome is getting, but a likely favorite to win the 2014 Kentucky Derby just as much.
Hoppertunity is a 3 year old horse that has quickly risen to prominence in the lead up to the Kentucky Derby. The horse is trained by the legendary Bob Baffert the thoroughbred has trotted to 2 wins in big races this year. These wins have earned the horse and its owners over $600,000. Equibase ranks this horse as the number 7 horse out of over 29,000 horses. Hoppertunity's pedigree stems from Any Given Saturday and Unaccounted For. Horse Racing Nation ranks this horse with 8 out of 10 stars and 7/1 betting odds at most online racebooks.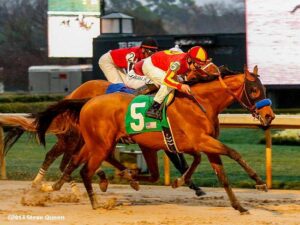 Can Hoppertunity win the Kentucky Derby? ESPN.com ranks this horse as being number 2 in its power rankings. Hoppertunity has obtained 95 Derby points and 110 ESPN points which makes the horse easily qualify for the Kentucky Derby starting field. Legendary jockey Mike Smith will get the ride in the Derby unless there is a last minute switch.
The 140th running of the Kentucky Derby will be a tremendous event which will surely result in a nice payoff for whoever is lucky enough to cash a winning ticket. The Derby day odds have not been posted yet but you can expect to see a large payoff of between 5/1 and 10/1 if you bet on Hoppertunity.