Kentucky Derby 2014
The 2014 Kentucky Derby race is just around the corner and there is no better time than now to bring your liver up to speed and start practicing how to make a mint julep now!
The Kentucky Derby seems like it is as old as time itself, and so too does the Mint Julep share the same history. Just like the Kentucky Derby 2014 has evolved, so has the official Kentucky Oaks and Derby drink. So when you sit down to place your Kentucky Derby online betting picks, remember to treat yourself to a special drink to calm your nerves first.
For just about one hundred years now, the mint julep has been the official drink of the Kentucky Derby. Nearly 120,000 of these drinks are served annually during the two-day racing event at Churchill Downs. It all began by being a very sweet and sticky kind of drink loaded with French brandy or rum with little ice to be had. It has evolved into the iconic drink of Derby Day.
Today's version going into the 140th Kentucky Derby is a sipping sort of drink, very bracing but if made correctly, very enjoyable. Take the liquor for instance: Kentucky bourbon is the preference of choice. No Southern gentleman of old would have his lips taste Eastern whiskey, and this adage still applies today! The bartenders at the Derby have practiced making these legendary drinks for a long time and they know all about the preferences of the ladies and gentlemen in attendance.
If you want to make your own homemade Mint Julep just before post time, here is one from a bartender at the Kentucky Derby himself: Have on hand plenty of finely crushed ice – kind of like the ice used in a slush that you would create for kids on a hot summer day. Keep a little dish of fresh mint leaves and some superfine sugar at the ready and start the process of building your Kentucky Derby Mint Julep. First, place five or so fresh mint leaves in the bottom of a very chilled glass. Sprinkle a heaping spoon of sugar onto the leaves and mash them slightly with a wooden spoon or muddler. Pack the glass with crushed ice. Pour in three ounces of Kentucky bourbon. Stir until the glass becomes frosty. Add a little more ice and serve with a short straw to inhale the heady aroma of the mint.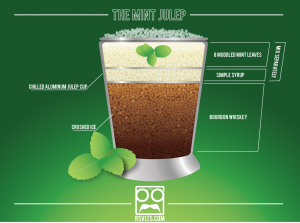 Take a couple of sips just before you bet on the longshot of the day if you happen to be at Churchill Downs or simply sit back and enjoy the derby from your living room seats and root for your favorite steed.