Fashion Tips for Kentucky Derby
Yes, the Kentucky Derby is about the horses, but it's also about so much more than that, such as fashion. Since the first race on May 17, 1875, fashion has been a major focus for both men and women. Before you head out to the Kentucky Derby ladies, keep in mind the following tips while you're packing your bags.
Ring in spring
The color scheme at the Kentucky Derby is primarily pastels. You'll find ladies in ensembles that are of pale yellow, blue, lavender, or pink hues. Although dresses are the more popular option for the day, suits and separates are also an option.
Let your hat be your statement piece
Hats are everything at the Kentucky Derby. While you usually wouldn't see a large hat while you're walking down the street in your hometown, they're on all the ladies at the Kentucky Derby, so make sure to bring your favorite with you for the occasion.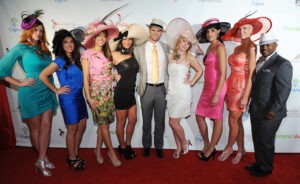 Wear comfortable fabrics
The 2015 Kentucky Derby takes place on May 2, and while the weather is likely to shift a bit before then, it's predicted that it's going to be 68 degrees. This means that the more comfortable and breathable the fabrics, the better, so your beautiful outfit doesn't feel heavy and make you sweat profusely.
Keep it classy
The Kentucky Derby is not the time or place to sport nightclub apparel or something you would wear to the beach. There are restrictions as to what you can wear, especially depending on what area you'll be in, so make sure to check out the dress code before you head over.
Pack comfortable shoes
Yes, heels are fashionable and look great with a dress, but after standing for a good portion of the day, your feet aren't going to feel so wonderful. Your best bet is to bring comfortable shoes to change into just in case, especially if you're going to have to walk back to the car.
If you need inspiration for what to wear, there are plenty of photos on the Internet that showcase past Kentucky Derby attendees.