Kentucky Derby Lingo to Know
Before you attend the 2015 Kentucky Derby, you may want to brush up on your lingo so that certain terms used during conversation won't sound odd to the point that you'll have to discreetly search the meaning of it from your phone. Ready to learn some lingo?
Kentucky Derby Mint Julep
The Mint Julep is the ultimate drink at the Derby, and it has been for over a century. For almost two decades, The Early Times Mint Julep Recipe is used at the Kentucky Derby, and there's more than 120,000 of them served over the span of a weekend. The recipe consists of 2 cups of sugar, 2 cups of water, sprigs of fresh mint, crushed ice, and Early Times Kentucky Whisky, and it's served in silver julep cups.
Millionaire's Row at the Derby
This area is only for the elite of the elite at the Kentucky Derby 2015, and it's where you'll find A-list celebrities and dignitaries.
The 2015 Triple Crown
The ultimate achievement in horse racing. Winning the Triple Crown means a horse won the Kentucky Derby, the Preakness Stakes, and the Belmont Stakes in the same year.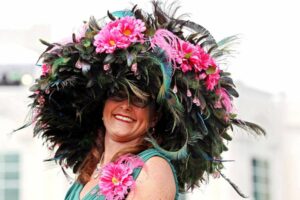 Garland of Roses at Kentucky Derby
The Garland of Roses consists of 554 roses that are sewn onto a blanket in a specific design, and draped over the back of the Kentucky Derby winning horse.
Kentucky Derby Purse
The amount of money that's won in a horse race.
Win, Place, or Show Kentucky Derby Bet
If you place a win bet, you're wagering that the horse is going to come in first place, if you make a place bet, you're wagering that the horse is going to come in first or second, and if you make a show bet, you're wagering that the horse will come in first, second, or third.
Burgoo
Just like there is the Mint Julep for drinks at the Kentucky Derby, Burgoo, which is a thick stew, is a popular meal for the Kentucky Derby.
The Infield
Consider this grassy area the party of the Kentucky Derby. There's over 80,000 in attendance, and it's just as great for families as it is for those who are single and ready-to-mingle.
Now that you know some of the most popular terms of the Kentucky Derby, you're all ready to attend one of the biggest sporting events in the world.