Meaning of Kentucky Derby Roses
If you've ever been to the Kentucky Derby or watched it on TV, you'll notice a common theme – red roses. Even their logo features a red rose at its center. So how exactly did this beautiful flower become a symbol of one of the greatest horse racing events in the world?
It's said that it all started because of a party back in the 19th century. Reportedly, E. Berry Wall, a gamester and socialite out of New York, hosted a party in Louisville after the Kentucky Derby and gave all the ladies roses. The founder of Churchill Downs and the Kentucky Derby, Col. M. Lewis Clark, liked the idea and the attention that it brought so much that he incorporated the rose the following year into the 1884 Kentucky Derby and made it the official flower, and the rest is history.
Over the years, roses have been incorporated more and more into the Kentucky Derby. In 1896, when the horse, Ben Brush, won the Kentucky Derby, he was outfitted with a collar of pink and white roses, and eventually a horseshoe shaped arrangement became the standard way to honor the horses who won the race. A New York sports columnist by the name of Bill Corum referred to the race in 1925 as the "Run for the Roses" and it's stuck ever since.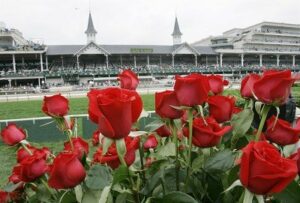 The first instance of the Garland of Roses, as it's referred to today, was in 1932 when Samuel Culbertson, an official at Churchill Downs, requested that Grace Walker, the owner of a flower shop in Louisville, make a new design. She came up with the design, stitched hundreds of red roses onto a blanket, and mixed in greenery, and it was worn by the Kentucky Derby winner that year – Burgoo King. Her daughter eventually took over the flower shop after her mom retired, and then later sold the flower shop in 1984. The Kroger Co. is the official florist of the Kentucky Derby, and many fans of the Kentucky Derby turn out each year to watch the garland being made.
The garland measures 22 inches wide, 122 inches long, and weighs 40+ pounds. The green moiré bengaline lining has the Churchill Downs' event mark on one end and the Commonwealth of Kentucky seal on the other. There are 554 Freedom roses put into individual vials of water and placed on a layer of thornless sprengeri. Camellia, Boxwood, and Coffee leaves outline the roses, and ribbons are added. At the center is a crown of roses, one for each horse in the Kentucky Derby, and a special rose is added at the center of that arrangement.
While the winning horse gets adored with the Garland of Roses, the jockey receives the Jockey's Bouquet, which consists of 60 long stemmed roses. There has only been 1 Kentucky Derby winner over the past 30 years that has not received roses.