Rules of Attending Kentucky Derby
Good Saturday, May 2nd, 2015 be one of the biggest betting days ever in sports? It just might when we get to watch the Kentucky Derby during the day, and then the Mayweather Pacquiao fight later on at night. To prep you for the Kentucky Derby we will go over some of the rules to follow when attending the Kentucky Derby. Although the Kentucky Derby is a great event, it's also one that comes with a lot of rules to make sure everyone stays as safe, happy, and healthy as possible. Before you head down to Churchill Downs, the following are just some of the rules to keep in mind to ensure you avoid any potential problems.
Know what you can bring
There's quite a few items you're allowed to bring, but many of them have restrictions attached. For example, you can bring a purse, but it has to be smaller than 12", and you can bring sunscreen, but it can only be in plastic containers. Chairs are allowed only at Gate 3, and blankets are allowed only at Gates 1 and 3. Review the list to ensure everything you're bringing will get the green light.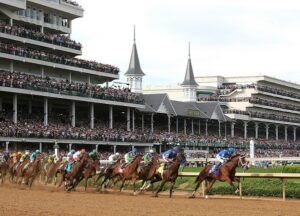 Know what you can't bring
Just like there's a list of things you can bring, there's a list of things you can't. For example, you can't bring coolers, cans, thermoses, umbrellas, or backpacks. Check out the list of banned items on the official site.
Adhere to the dress code
The ladies and men in attendance typically sport their best looks for Derby day, but those who are going to be on the infield area tend to dress much more casual. In certain areas, such as Millionaire's Row, Aristides Room, and the Turf Club, there is a strict dress code that involves no denim, shorts, sneakers, and various other pieces of casual clothing. Read the restrictions for what you can and cannot wear before you pack your bags.
Know the admission rules
To make sure everything stays organized, there's quite a few rules as far as where you can enter. For example, if you're going to be spending the day on the infield, you'll have to enter via Gates 1 or 3, but if you have reserved clubhouse seating, you'll enter at Gates 10 or 17. Know ahead of time where you're going to be sitting, and read the site so you'll know where you're supposed to enter. Gates open at Churchill Downs at 8am with the post time for the Kentucky Derby at 6:24pm.