John Velazquez Blames Bodexpress Fiasco on Miscommunication
Belmont Stakes online betting is next month. During last week's Preakness Stakes, veteran jockey John Velazquez fell off Bodexpress. This, right after the race began. Leaving the horse to finish the Preakness without a rider. Fortunately for Velazquez, getting bucked off the horse did not result in a serious injury. He was however very upset.
A few days after the race, the jockey made an appearance on CNN. This was to explain what happened after the horse left the gate, blaming the mishap on miscommunication between himself and the assistant starter.
"When the gates opened, I think my assistant starter wasn't ready for it," said Velazquez, who flew high out of the saddle. This was when Bodexpress moved.
Before he left the gate, Bodexpress leaned against the right side of his gate. Also, squeezed Velazquez's foot halfway out of the iron.
"The second that horse jumped out the way he did, I knew I was in trouble," he told CNN, adding that due to the incident, "It seems like I'm getting more press than the winner, War of Will."
Belmont Stakes Online Betting on Bodexpress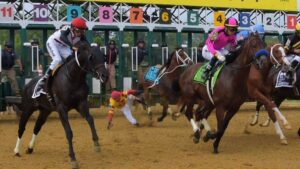 Even though Bodexpress managed to finish the race, the people who bet on him weren't happy. This because they did not receive a refund due to a controversial Maryland rule. Making it the second consecutive Triple Crown race that ended in controversy. What will happen in the third leg?
According to the rules, if there is a gate malfunction, the rules say the starter determines who did or didn't get a fair start, not the stewards. You can see why many would be upset.
Even though a lot of fans believe the stewards should have made Bodexpress a non-starter since his jockey fell off at the start of the race. This would have led to a refund of the bets on him. The stewards refused to do so, leaving a lot of people upset.
According to Velazquez, Bodexpress will not participate in the Belmont Stakes on June 8. Do not pick this horse for Belmont Stakes online betting.