Bob Baffert Looks to Win Back to Back Triple Crowns
Did you know that Bob Baffert is only the 11th trainer to win the Triple Crown? Baffert is known as one of the most successful trainers in all of horse racing. While Baffert doesn't have the Kentucky Derby favorite this year, Baffert's secret for success could potentially produce a back to back Triple Crown winner.
In 2015, Baffert's thoroughbred American Pharoah made horse racing history by breaking the streak of horses that have come up just short of winning the Triple Crown. In 2016, Baffert has put Mor Spirit into the Kentucky Derby 142 field in efforts to reclaim horse racing's most illustrious prize.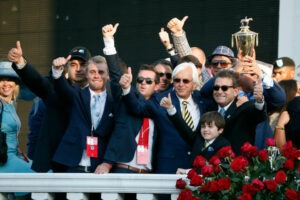 Interestingly enough Mor Spirit either placed 1st or 2nd in all graded stakes races that the horse has participated in. With back to back wins in the Robert B. Lewis stakes and the Los Alamitos Futurity, Mor Spirit could hit his peak at the right time and catch a clear lane down the backstretch at the Kentucky Derby.
Bob Baffert's horses are always contenders to win the Kentucky Derby. Those who are familiar with the Kentucky Derby know that this race has a very streaky reputation. For example, just a few years ago, jockey Calvin Borel won the Kentucky Derby 3 times in 4 years. Could Bob Baffert repeat as Kentucky Derby winning trainer in 2016?