How to Place Exotic Bets
Have you ever wondered how to place exotic bets or been to scared to ever place them? Well, not to fret any longer, today we will be helping Kentucky Derby bettors place exotic bets online.
Understanding Exotics Bets Online
You hear about exotic wagers all the time but you get to the track and you have no idea what to say or how to bet on exotic wagers. Exotic wagers are good ways for you to make extra money on race day. Traditional horse betting systems let you perform win, place or show bets. Exotic bets are bets like exactas, trifectas and superfectas let you cash in on accurately predicting each horse's final finishing position.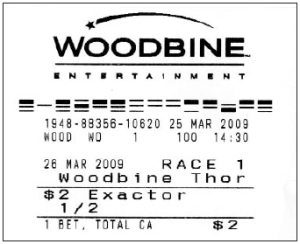 Boxing a bet
When you hear of someone boxing a bet, it basically means that they are betting on every combination of finishing position for the horses that they are betting on. If you were betting on the 1 and the 2 horse to finish first or seconds, you would bet using an exacta with your Kentucky Derby bets online. In efforts to hedge that bet, many bettors will box the bet and which allows them bet on additional potential finish combinations of horses selected.
Exotics
Let's say you have a 20 horse field like the 140th Kentucky Derby. If you bet on the 3 and 5 horses in an exacta box for $2, you would get a ticket that allowed you to win if the 3 horse finished first or second as well as the 5 horse. If neither of the horses finishes in first or second place, you lose that bet. Trifectas work on the same concept such as allowing gamblers to bet on 1st, 2nd and 3rd places. Most bettors commonly box trifectas. Since these wagers result in more combinations, trifecta payouts are typically displayed in $1 increments. Superfectas work the same as trifectas except these bets allow gamblers to predict the finishing position of first 4 horses.
There you have it, now you can place your Kentucky Derby exotic bets online for the big race on Saturday, May 3rd, 2014 with coverage starting April 30th, 2014 on NBC.