New Horses Enter the 2017 Kentucky Derby Discussion
With the recent results of this past weekend's Kentucky Derby prep races new horses have entered into the discussion for 2017 Kentucky Derby wagering lines updates.
As Kentucky Derby 143 descends upon us, horse bettors have been forced to consider a whole new field of horses that have entered the discussion late.
Horses such as Hence, Fast and Accurate and Irap have entered into serious consideration for winning the Kentucky Derby. With these new late additions to the Kentucky Derby contenders field, many horse bettors have had to consider the chances of a longshot winning this year.
Unlike previous Kentucky Derby races, Kentucky Derby 143 will not have a clear cut favorite on race day. In fact, multiple horses may have betting odds like 4/1 or 5/1 on the day of the big race. 
This presents lucrative Kentucky Derby online betting opportunities for those who can accurately pick which horses will win, place or show. In fact, one of the biggest upsides for horse bettors is that if they are able to accurately pick a $2 trifecta, they can often get paid thousands for their bets.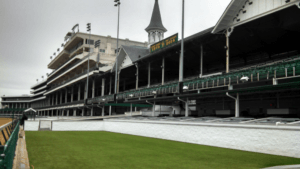 This is what makes the Kentucky Derby one of the best horse racing events of the year. Any horse can realistically win the Kentucky Derby, which is what makes it such a special race. Get in on all of the betting odds action by using an online sportsbooks such as MyBookie.Ag or BetOnline to book your Kentucky Derby 143 bets.