Samraat Kentucky Derby Preview
A name that you may not have heard of too much going into the 140th Kentucky Derby is Samraat. No, we are not talking about Samraat the Bollywood movie, but Samraat the horse who is just as dramatic. Samraat has pretty good betting odds to win the Kentucky Derby so we will be giving you, our loyal visitors, the official Samraat Kentucky Derby preview to help you get a better understanding of this shy horse.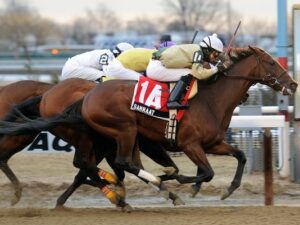 Samraat is a New York bred horse that has accumulated 5 wins and 1 place with the only 2nd place finish coming to Wicked Strong in the Wood Memorial. Regardless of that one second place finish, many Kentucky Derby experts are still on high on Samraat's chances to win the run for the roses.
Samraat has won over $600,000 this year for his owners and trainer. Richard Violette is Samraat's traner and Jose Ortiz will likely get the ride aboard Samraat for the Kentucky Derby. My Meadowview Farm is Samraat's owner.
Samraat is ranked in the top 5 of ESPN.com's power rankings. The horse has accumulated enough point to earn a spot in the gates of the Kentucky Derby. Samraat is also ranked #6 on Equibase as far as earnings are concerned. The Run for the Roses will take place on May 3rd 2014 and many horse racing enthusiasts say that this could be the best Kentucky Derby ever.
With such high expectations, you can expect big betting pools. This could also result in a thoroughbred like Samraat being pushed down the list as far as betting odds are concerned. If its minutes to post and you see Samraat sitting at 10/1 odds or worse, why not place a small $2 bet just in case he wins?