Types of Kentucky Derby Online Bets
There's quite a few wagers types you can make when you walk up to the window at a racetrack, but the three most common are win, place, or show. They're easy for beginners to remember and try, even for the first time they're betting. If you're heading to a racetrack, here's what you should know about the difference between the three terms to keep in mind for Kentucky Derby online betting for 2015 going into tomorrow's race, Saturday, May 2nd, 2015.
Win
To place a win wager is exactly what it sounds like. You're betting that the horse you choose is going to cross the finish line first.
Place
When you make a place wager, you're betting that a horse is going to come in first or second.
Show
Placing a show bet means that you're betting a horse is going to finish in first, second, or third position.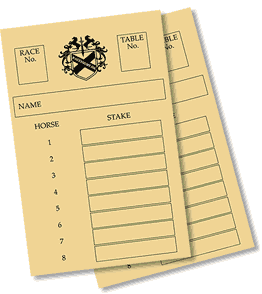 There's also the Across the Board wager, which is a combination of the three aforementioned. Rather than your bet being win, place, or show, your Across the Board wager means that you're betting the horse will win, place, and show. Consider it three bets in one. Should the horse come in first, you win all three wagers, and for a second place finish, you win the place and show bets. For a third place finish, you'll win the show bet. If your horse doesn't place in the top three, you lose the money.
There's other wager options that are deemed "exotic," such as the Quinella, Trifecta, Exacta, and Superfecta, but they're typically more difficult to win money on. Most racetracks have a minimum wager of $2, so beginners may feel more comfortable starting off with small bets and (possibly) working their way up to larger bets the more confident they get rather than just diving in with a large bet right away.
Before you head to the track, consider researching the contenders and marking down what bets you want to make. It'll give you time to do your research and get everything in order so you can go right in, place your bets, and just enjoy your day at the track.