Movies about Horse Racing
Today we will be taking a quick break from talking about the Kentucky Derby and taking a look at the lighter side of horse racing. Over the past couple of decades there have been many movies based on real horse racing events and we will highlight those for you today.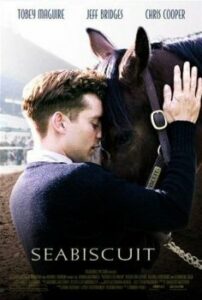 Famous horses get mentioned in conversations but legendary horses are the ones that movies are made about. Secretariat is a perfect example of this. Secretariat was produced by Disney in 2010 and the movie has received an average rating of 7.2 of 10 on IMDB which is pretty good. The film features Diane Lane and John Malkovich as the leads and many industry film analysts believe that the inspiring story of Secretariat's Triple Crown will be the catalyst for bringing more fans in the world of horse racing.
In 2009, Mine that Bird went from a horse in Southern New Mexico to winning the Kentucky Derby at 50-1 betting odds. A movie entitled "50-1" was released in March of 2014 and this film chronicle's Mine that Bird's improbable rise to Kentucky Derby champion status. If you remember Mine that Bird's run at the Derby, the horse was 18 horses behind the leader at the last quarter mile of track. Somehow, Mine that Bird blew past them all taking the inside rail and won the race by over 6 lengths. Currently this film has a rating of 8.1 of 10 on IMDB.
Seabiscuit is another popular movie about horse racing. The movie features Tobey Maguire and Jeff Bridges in an epic tale about how a depression era horse embodied the community of hard working men around him. This movie also has received a high rating on IMDB and it is the perfect movie for you to watch with your family in order to get ready for the Kentucky Derby.