Celebrities at the Kentucky Derby
The Kentucky Derby has always been a star studded affair and the 2014 Kentucky Derby promises to not disappoint as far as celebrity sightings at the Kentucky Derby go. Past celebrities to attend the Kentucky Derby have included NBA player Dwayne Wade of the Miami Heat, and celebrity Kim Kardashian who we don't quite know how to label her.
The Earl of Derby came to the Kentucky Derby in 1930. The Duke of Windsor came in 1951. Other royalty has come and gone, decked out in big hats, big wallets, and big titles. But the Derby has been host to just one Duke.
Known as the "Duke" John Wayne's all-American movie celebrity made him the logical and patriotic choice for the 1976 Derby, when the country was in the midst of Bicentennial celebrations. Wayne was grand marshal of the Pegasus Parade, one of the largest parades in the U.S. begun in 1935, that kicks off the Kentucky Derby Festival two weeks before the first Saturday in May, when the Derby is held.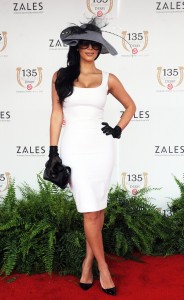 The "Duke" reserved the 25th floor of the Galt House, the official Kentucky Derby hotel in Louisville where he shunned the drink of locals… bourbon, for his personal favorite – tequila. Wayne relished his privacy and hated crowds which is why he only accepted the Pegasus as one of the few parades he would grand marshal. Wayne was a racing fan from way back and could also be seen at the Del Mar Racetrack often.
The first president to attend the Derby was Harry Truman and followed by 25 other U.S. presidents that have attended the Derby but only one as a sitting president and that was Richard Nixon. Nixon attended in 1968 when he was a candidate running for office of president as a guest of then Governor, Louie Nunn. He promised Governor Nunn that should he win, he would return. Sure enough, the following year, Nixon came back to witness the Derby as president. At least some presidents keep political promises they make.