Kentucky Derby Memorabilia
In the day and age where everything sooner or later becomes collectible if not antique, it was not a surprise after checking out some web sites, that Kentucky Derby souvenirs and memorabilia can become high end commodities.
Take for example, a quick search on eBay where I found an old Kentucky Derby lead horseshoe paperweight souvenir from May of 1914! The price – a mere $175.00. Below that listing was a 1950s collector's hat sporting a nice silkscreening of the photo finish that Derby year – cost was a respectable $110.00.
Not to be outdone, the Kentucky Derby Museum and Gift Shop had a most interesting item for sale. It was a framed photo of last year's Derby winner Orb and placed next to it, was an entry ticket to the 2013 Kentucky Derby – to be had for $80.00.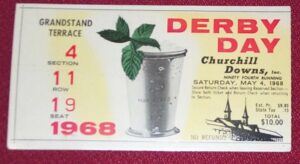 One of the more interesting items and the most expensive I found in my preliminary searches was a pair of 1948 mint julep glasses on the Etsy site for $400.00. My personal favorite and from the same Etsy site, was the official First Day Cover envelope saluting the sport of horse racing, dated and stamped in the city of Louisville on May 4, 1974 and autographed by Eddie Arcaro! Autograph was authenticated by certificate. To be had for $200.00.
George Edward Arcaro was born February 19, 1916. He died on November 14, 1997.
His fame as a jockey was because he won more American classic races than any other jockey in history. Arcaro won his first Kentucky Derby in 1938 aboard Lawrin. He is tied with Bill Hartack for most Derby wins with five, and has the most wins in the Preakness and the Belmont Stakes with six. He won the U.S. Triple Crown twice – once in 1941 on Whirlaway and again in 1948 on Citation. His other Kentucky Derby wins were Hoop Jr (1945) and Hill Gail (1952).
Now how about you trying your own search, or looking closely at local garage sales and thrift shops – who knows, you too may find a racing treasure.