Belmont Betting Favorites
With the 2012 Belmont Stakes just a couple of weekends away early betting favorites are starting to come to light. Today we will be going over early 2012 Belmont Stakes online betting favorites along with our pick of who's going to win the 2012 Belmont Stakes and how you can win your Belmont bets.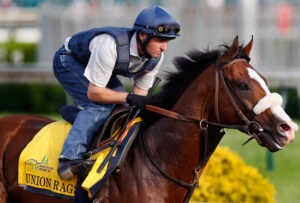 It is pretty fair to say there are 3 main Belmont betting favorites. Current sportsbooks have I'll Have Another, Union Rags, and Dullahan as strong Belmont Stakes online betting favorites. I'll Have Another is currently posted at +135 Belmont Stakes betting odds, with both Union Rags and Dullahan at +350 betting odds to win the 2012 Belmont Stakes. When it comes to Internet sports wagering often it is far too easy to just pick the favorite to win. That is why betting on the Belmont Stakes is so much fun because you don't have to just predict the winner, you can also bet which horse will come in the top 3, or which one you think will finish second. For the past Preakness Stakes this is how I made a few quick bucks. I wasn't positive that I'll Have Another was going to win, but I did feel very confident that Bodemeister was going to have a repeat performance of what happened in the Kentucky Derby. What I mean by that is that the competition was onto him and knew to stay a little back through the majority of the race just to make the move in the final couple of furlongs. For Belmont Stakes online betting I also have the same feeling except this time I think I'll Have Another will finish second, and there will be a new winner in the third leg of the Triple Crown. So right off the bat we know I'll Have Another is too easy of a bet to place for the Belmont so let's look at the other horses in contention to win the 2012 Belmont Stakes on Saturday, June 9th, 2012. As mentioned above both Dullahan and Union Rags have been bumped down to +350 betting odds from +400 to win the Belmont Stakes. We like Dullahan to come through and put his name on the Belmont Stakes Cup at Belmont Park in New York barring any unforeseen injuries.