Belmont Stakes Post Positions
Just a few hours ago the 2012 Belmont Stakes post positions were released and many Belmont Stakes bettors flocked to their closest Internet connection to see where their favorites ended up. Today we will cover the latest Belmont Stakes 2012 post positions and what this may mean for players looking to bet on the Belmont Stakes. If you have yet to find a good racebook for your 2012 Belmont Stakes online betting picks and predictions then check out either the new TwinSpires official Belmont Stakes racebook or the Bovada sports betting site.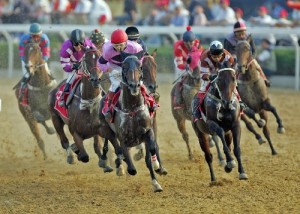 Now that moment you have been waiting for, well most of you anyways. Here are the 2012 Belmont Stakes betting opening post predictions. The first column denotes the horse name, second column is the jockey, and then the third column are the current Belmont Stakes Internet wagering odds for that specific horse.
Street Life J. Lezcano 10-1 betting odds
Unstoppable U J. Alvarado 30-1 wagering lines
Union Rags J. Velasquez 5-1 betting odds
Atigun J. Leparoux 30-1 wagering lines
Dullahan J. Castellano 5-1 betting odds
Five Sixteen R. Napravnik 50-1 wagering lines
Ravelo's Boy A.Solis 45-1 betting odds
Guyana Star Dweej K. Desormeaux 50-1 wagering lines
Paynter M. Smith 8-1 betting odds
Optimizer C. Nakatani 15-1 wagering lines
I'll Have Another M. Gutierrez 4-5 betting odds
My Adonis R. Dominguez 17-1 wagering lines
There you have it fellow horse racing fans. Union Rags, Dullahan and I'll Have Another all seem pretty evenly spread out through the 12 horses racing in the Belmont Stakes which means that the top contenders to win the 2012 Belmont Stakes should not get in one another's way while coming out the starting gate. For Belmont Stakes picks we like Atigun is this year's Belmont Stakes longshot. Sitting at 30-1 betting odds we feel Atigun has the biggest potential pay day out of all the horses racing that actually have a shot at winning the race and beating out I'll Have Another.