Kentucky Derby Media Poll Week 2
The first Kentucky Derby media poll was released last week with Game Winner coming in as the top ranked horse. Every week leading up to the 2019 Kentucky Derby, the list will be updated to reflect what is going on in the Kentucky Derby prep races. Next, updated Kentucky Derby predictions.
This week, the top three horses on the list remain unchanged, but there are a few new contenders on the list, one of which is Code of Honor, who was unranked last week and jumped into fourth place this week thanks to his performance at the Fountain of Youth Stakes.
Bob Baffert trained Roadstar also made his debut in the media poll this week after winning at Santa Anita Park on Friday.
"Apparently now it's never too late," quipped XBTV's Zoe Cadman, with Triple Crown winner Justify having similarly earned his way into a final Derby prep last year. "Roadster leapfrogged many others with his facile win at Santa Anita."
Kentucky Derby Predictions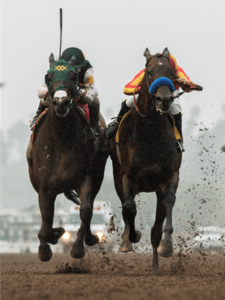 With Baffert's Game Winner and Improbable running against each other at the San Felipe Stakes this weekend, expect to see some changes at the top of the standings when next week's poll is released.
Horse (1st-place votes) Points Previous
1. Game Winner (21) 646 1
2. Improbable (6) 638 2
3. War of Will (3) 587 3
4. Code of Honor 509 NR
5. Mucho Gusto 482 5
6. Instagrand (2) 447 6
7. Bourbon War 444 NR
8. Country House (1) 314 8
9. Hidden Scroll 311 4
10. Vekoma 294 11
11. Galilean (1) 290 9
12. Roadster 242 NR
13. Gunmetal Gray 217 10
14. Tax 201 12
15. Win Win Win 189 14
16. Harvey Wallbanger 165 13
17. Dream Maker 146 17
18. Mind Control 108 19
19. Well Defined 104 15
20. Signalman 89 7
Next 10 receiving votes: Omaha Beach, Anothertwistafate, Mucho, Sueno, Long Range Toddy, Global Campaign, Nolo Contesto, Spinoff, Intrepid Heart, Not That Brady.
In conclusion, the latest Kentucky Derby Media Poll suggests Game Winner will win the 145th Kentucky Derby.