144th Kentucky Derby Predictions
The Kentucky Derby is now five weeks away, and like it has during the entire qualification process betting picks for the Derby have changed once again with a few new horses emerging as contenders thanks to their performances over the weekend. Without further ado we preview current 144th Kentucky Derby predictions for Saturda, May 5th, 2018 Run for the Roses.
If you have yet to place your 2018 Kentucky Derby predictions at a sportsbook or if you are still looking to learn how to bet on the Derby then please continue reading further.
Favorite Kentucky Derby Betting Picks
1. McKinzie (7-1)
McKinzie finished second to Bolt d'Oro at the San Felipe Stakes two weeks ago. And despite the controversial ending to the race, he remains one of the top contenders to win the Derby. Even though he moved past Bolt d'Oro and Justify to claim the top spot. With a few more qualification races before the Kentucky Derby, don't be surprised to see the favorites list change again.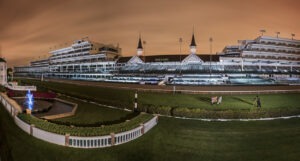 T2. Bolt d'Oro (8-1)
Bolt d'Oro remains one of the favorites to win the Kentucky Derby, but it appears the oddsmakers aren't totally sold on him after moving him down one spot in a week he didn't perform. This Kentucky Derby betting favorite, who has four wins in five starts, will still be one of the popular betting choices to win the Derby.
T2. Justify (8-1)
Justify now shares the second best odds of winning the Kentucky Derby with Bolt d'Oro. Despite being one of the favorites to win the Kentucky Derby, Justify hasn't faced a lot of the top competition, and will try to prove it deserves the high odds when he faces some of the top contenders in the remaining qualifying races.
Top 2 Kentucky Derby Betting Predictions
4. Magnum Moon (10-1)
His win at the Rebel Stakes last week moved him to the top contenders list, and even though he was idle this week, he still managed to leap frog Good Magic, who held this spot last week. Like Justify, the biggest knock against him is the lack of top competition, but we will see how well he holds up against top competition in the coming weeks.
5. Noble Indy (12-1)
The newest addition to the top five is coming off a win at the Louisiana Derby this weekend. The three-year-old has three wins in his four starts, with a third place finish at the Risen Star Stakes. Since he isn't scheduled to race again until the Kentucky Derby, expect his odds to drop as other contenders emerge.