Vicars In Trouble Wagering Line
Welcome to Kentucky-Derby-Online-Betting.com, your home for the latest betting picks and wagering predictions for the first leg of the Triple Crown on Saturday, May 3rd, 2014. Today's Derby picks we will be looking at Vicar's in Trouble. A great name, but not such a great chance to win the Kentucky Derby. The Bovada online racebook currently has Vicar's in Trouble sitting at 11-1 betting odds to win the Kentucky Derby. This wagering line is likely to change before Saturday but unless any major injuries occur, we do not expect Vicar's to get out of trouble.
Vicar's In Trouble will get a start in the Kentucky Derby this year and the horse looks to capitalize on his win in the Louisiana Derby. Vicar's In Trouble is jockeyed by Rosie Napravnik and the thoroughbred is trained by Michael J. Maker. Vicar's In Trouble had a bloodline that involves Vicar, a former Florida Derby winner, Into Mischief and Vibrant. The horse looks to blaze past the field in the Kentucky Derby and continue on his winning ways. In 2014, Equibase has this horse ranked #3 out of 29,000+ horses in terms of earnings. Vicar's In Trouble has earned his owners $760,000 this year alone.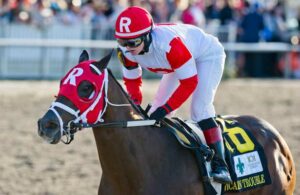 The Kentucky Derby is one of the richest traditions in all of sports and this year's installment of "The most exciting 2 minutes in sports" will not disappoint horse racing fans and we can almost stake a guarantee on that claim if fans partake in Kentucky Derby betting online for Saturday's big race at Churchill Downs. Many experts feel as if this field is one of the stronger fields that have run the Derby in recent years. This means that anyone can win the Derby and this fact alone gets horse bettors excited. While we won't know what the odds for Vicar's In Trouble will be at the time of post, we do know that ESPN has this horse ranked in the top 10 of its power rankings which means that this horse could have 7/1 or 8/1 betting odds once the betting windows close.