Ill Have Another Retires
As many of you have already heard by now, I'll Have Another, 2012 Triple Crown favorite, will no longer have his shot at being the first horse to win the Triple Crown since 1978. It was reported earlier today that after winning the Kentucky Derby and Preakness Stakes, I'll Have Another became fatigued and it was during a training run earlier this week that finally took it's toll on I'll Have Another causing a leg injury. The injury is not fatal, but is significant enough to force I'll Have Another to miss the Belmont Stakes and return at a young age.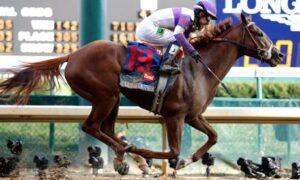 It is very sad as the saga around I'll Have Another continues. After barely making it into the 2012 Kentucky Derby, I'll Have Another showed everyone and surpassed Bodemeister for the win. Then, in another outstanding performance I'll Have Another took out Bodemeister again to win the 2012 Preakness Stakes. Then as things seemed like they were going smooth sailing I'll Have Another's trainer, Doug O'Neill was suspended by the California Horse Racing Commission just a couple of weeks prior to the Belmont Stakes. The suspension did not affect I'll Have Another's shot to win the Triple Crown as the suspension doesn't take place until July. So after dodging that bullet we all thought I'll Have Another was destined to become the first Triple Crown winner in 34 years but today we found out the sad news that this was not going to be possible as I'll Have Another retired today because of a leg injury that had been bothering the young horse during training for the Belmont Stakes which is tomorrow. The 2012 Belmont Stakes has a new face now with I'll Have Another. Out of the rest of the field we believe that when it comes to Belmont Stakes online betting the newly surfaced betting favorites are Union Rags and Dullahan. Union Rags is currently sitting at +325 betting odds and Dullahan is right behind him at +330 wagering lines for the 2012 Belmont Stakes. If you don't have a place to bet yet check out the TwinSpires or Bovada Racebook for all your horse betting odds and bonuses for the big race.