Kentucky Derby Longshots
We here at Kentucky Derby Online Betting are not psychics, but with just a couple of days left before the 138th Run for the Roses, we are willing to bet that you wouldn't mind some free Kentucky Derby picks and predictions for your online sports betting this weekend. With the 2012 Kentucky Derby expected to be relatively close, there are really not many long shots in the traditional sense of the word longshot. I guess you can say any horse that isn't Union Rags, Gemologist, I'll Have Another, or Bodemeister might be considered a long shot on Saturday. Below we will go over some horses that many might consider long shots but have a really good chance at either winning, placing, or showing in the Kentucky Derby wagering.
First up we will take a look at the horse named Went The Day Well. Yes, another weird name, but a strong contender at this year's Kentucky Derby nonetheless. This Kentucky Derby contender finished first in the Spiral Stakes and that is already drawing comparisons to last year's Kentucky Derby winner, Animal Kingdom, who also won the Spiral Stakes and then of course went on to win the 2011 Kentucky Derby. Our next underdog to win the 2012 Kentucky Derby is Sabercat. Wrong species, but right speed as this thoroughbred has gotten better with every race leading up to the first leg of the Triple Crown. As we have all seen from Sabercat, he has potential just like what we saw from him in Arkansas, but I wouldn't be betting the farm on him just yet.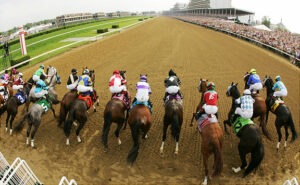 One important factor to note when wagering on the 2012 Kentucky Derby is that no jockey or trainer wakes up the day of the race not thinking they can win. All 20 horses are legitimate contenders to win the 138th annual Kentucky Derby and betting and winning big on a longshot is nothing new when it comes to horse racing bets online. Kentucky Derby underdogs are by no means strangers to winning the Kentucky Derby and that is what we would like you to take away from today's Kentucky Derby betting predictions!