New Horse In Kentucky Derby 2018 Media Poll
Kentucky Derby 2018 is shaping up to be one of the unpredictable Derbys in recent years because the media and horse racing experts can's seem to agree on which horses have the best chance to win the Derby. This news is also impacting Kentucky Derby online betting favorites wagering lines and odds.
Last week, Justify ended up in the top five after an impressive race. This week, Magnum Moon is back in the top five, after previously being ranked 18th, thanks to his performance in the G2 Rebel Stakes over the weekend, giving him three wins in his three starts.
"Crazy year," said the Southern California News Group's Art Wilson. "Two of the top Kentucky Derby candidates — Justify and Magnum Moon — didn't race at age 2. Are we looking at another Apollo?"
Apollo was the first and only horse to win the Kentucky Derby without racing in his second year, a feat accomplished in 1882.
Magnum Moon's vault up the ranking is justified by the fact that he defeated other Kentucky Derby hopefuls, while Justify, who was in the top five last week, dropped to number six.
"Magnum Moon beat a good field in the Rebel and he ran like a horse who will carry on at longer distances," said Churchill Downs' Joe Kristufek. "Justify is super talented, but he still needs to pass the class test."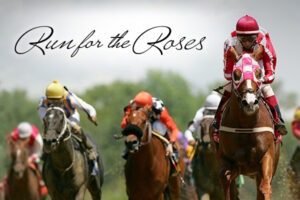 Latest Kentucky Derby 2018 Media Poll Rankings
Bolt d'Oro retained his position at the top of the rankings and was followed by McKinzie, which was ranked second last week
Good Magic dropped from third to fourth this week, while Audible also dropped one spot to number five.
Kentucky Derby Media Poll (Week 4)
Horse (1st-place votes) Points Previous
1. Bolt d'Oro (13) 539 1
2. McKinzie (9) 529 2
3. Magnum Moon (1) 443 18
4. Good Magic 441 3
5. Audible (1) 437 4
6. Justify (2) 433 T5
7. Solomini (1) 374 T5
8. Enticed 333 7
9. Promises Fulfilled 322 8
10. Catholic Boy (1) 294 9