Shakeup In Latest Kentucky Derby Media Poll
As we draw one week closer to the first leg of 2018 the Triple Crown, the Kentucky Derby media poll has undergone a few changes, and another contender has emerged from the pack. Last week, Runaway Ghost went from being unranked to 19th in the Kentucky Derby media poll. This week Mendelssohn was the big mover, jumping from 15th last week to 3rd.
Bolt d'Oro maintained his spot at the top of the 2018 poll. Audible moved up from third to second due to an injury to McKinzie, who has been ruled out of the Kentucky Derby.
Magnum Moon remained in the fourth spot, while Justify dropped two spots into fifth.
Here are the Top 10 Horses According to the Latest Kentucky Derby Media Poll Mendelssohn
Kentucky Derby Media Poll (Week 6)
Horse (1st-place votes) Points Previous
1. Bolt d'Oro (14) 500 1
2. Audible (3) 463 6
3. Mendelssohn (5) 436 15
4. Magnum Moon 423 4
5. Justify (2) 400 3
6. Good Magic 389 5
7. Solomini (1) 348 7
8. Noble Indy 314 9
9. Enticed 307 10
10. McKinzie (1) 270 2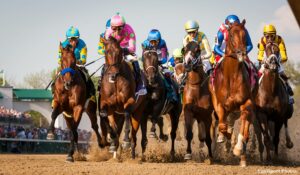 Mendelssohn rising in the rankings means the media are starting to come around when it comes to European based horses, who are often overlooked because they haven't done well at the Derby in the past.
The fact that Mendelssohn won the Dubai World Cup also helped boost his rankings.
"Despite the historical irrelevance of the UAE Derby on the Kentucky Derby, It is impossible to shade Mendelssohn's rousing performance Saturday," Paulick Report editor Scott Jagow said.
"He's already won on three continents and three different surfaces, with his drilling of the competition in Dubai coming over dirt. A half-brother to Beholder, one of the great champions of recent memory, the sky appears to be the limit for son of Scat Daddy.