Anneau d'Or Kentucky Derby Odds
Blaine Wright trained colt, Anneau d'Or, looked impressive in his first three starts. Notching one win and finishing second in his next two races. One of which was the Breeders' Cup Juvenile. Last week, Wright was expecting a win or a top three finish for his horse. However, Anneau d'Or came out flat and finished ninth.
Due to his poor finish, there was speculation that the horse could have been hurt during the race, but Wright said he was healthy and couldn't figure out what caused the horse to have such a poor showing.
"I kind of wish I could give [everyone] an excuse as to why he ran the way he did, but he came out of the race just fine," Wright said in this week's Golden Gate Fields stable notes. "We did some bloodwork on him and everything came back normal. He scoped clean. He jogged sound down the shedrow. Will resume training at Golden Gate and we'll decide what to do with him next in the coming weeks."
Online Betting Odds for Anneau d'Or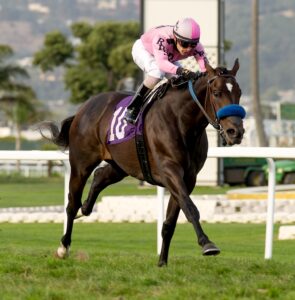 Wright had been planning to enter Anneau d'Or in the Santa Anita Derby after the Risen Star Stakes, but his poor performance lead to a change in plans. The three-year-old is currently 14th in the Kentucky Derby leaderboards with 12 points. With two full months left before the Derby, the colt can still earn a spot in the race, especially if he is entered in any of the big point races like the Sunland Derby, which awards the winner with 50 points, or the Santa Anita Derby, which awards 100 points to the winner.
However, if he is going to make it to the Derby this year, he will have to bounce back from the Risen Star performance with better ones.
"This game is full of peaks and valleys," Wright said. "We'll hold our heads high and keep taking good care of our horse."