Going to the Kentucky Derby
The 140th Kentucky Derby will take place on May 3rd 2014 in Louisville, Kentucky at Churchill Downs. If you plan on going to the Kentucky Derby, you should prepare yourself by adhering to the following guidelines for attending Kentucky Derby 2014:
Dress to Impress
Being at the Derby is all about standing out. You want to look your best or do your best at getting noticed. Being able to get a ticket to the grandstands will probably cost you a pretty penny. While you can get a general admission pass for the $50 range, sitting in the clubhouse or on Millionaire's Row could cost you several thousands of dollars.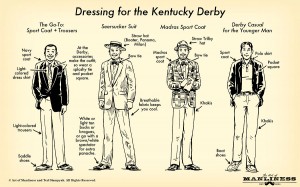 Bring plenty of Cash
If you are going to win money, you have to bet money on the Kentucky Derby. There are more races than just the main race that you see broadcasted on NBC. The Kentucky Derby is a festival of horse racing events that also take place on the inner turf and dirt tracks. If you are buying Mint Juleps, those cost around $8 a glass. You will get a commemorating cup with past Derby winners on it so that you can take home that is unique to your attendance at Derby.
Follow the Rules
Being responsible is all about being an adult. If you aren't acting like an adult, the Derby is probably not the place for you. The Kentucky Derby is all about family, friends and having a good time. If you can't ad hear to the rules, the Derby is probably an event you should pass on attending.