The Oldest Living Kentucky Derby Winning Horse
With Kentucky Derby 2014 just less than two months away we take a moment to remember the oldest living Kentucky Derby winning horse, Sea Hero.
He is adored even though there may be a little gray around his muzzle and at 23 years old, Sea Hero still likes a lump of sugar and a carrot occasionally. He was born in Virginia and is an American-bred Thoroughbred racehorse. He won the 1993 Kentucky Derby as an almost 13 to 1 longshot. When it comes to Kentucky Derby online betting you won't see much better odds than 13 to 1 for a Kentucky Derby winner which is what makes the story of Sea Hero so interesting amongst Kentucky Derby bettors.
A ride on Sea Hero also marked the first Kentucky Derby win the same year for All American Hall of Fame jockey Jerry Bailey and for 71-year-old trainer MacKenzie Miller who died at nearly 90 years old in 2010. It was also the first Derby win for Rokeby Stables' 85-year-old billionaire owner Paul Mellon, who became the only person to ever win the Kentucky Derby, the Epsom Derby, and the Prix de l'Arc de Triomphe, having captured the Epsom and Prix with a horse named Mill Reef in 1971. Paul Mellon died in 1999 at the age of 92.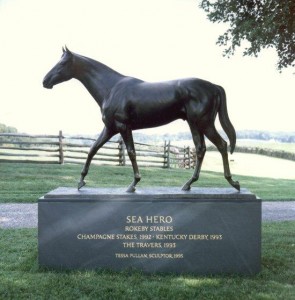 Following his Derby win, Sea Hero won the prestigious Grade I Travers Stakes at Saratoga Race Course. He was retired after racing at age 4 without scoring another major win. After standing at stud in the U.S., in 1993 he was sold to the Turkish National Stud in Turkey. He is the sire of fifteen stakes winners. Not too bad for having retired at 4!
In the paddock at Saratoga Race Course in Saratoga Springs, New York, and circled by the saddled horses going to post for each and every race, stands a bronze statue of Sea Hero. Not too many horses have a bronze statue in their honor.
In 2011, Sea Hero became the oldest living Kentucky Derby winner. And who says that horses don't keep their owners and trainers living a long time too!