Triple Crown 2014
Although the answer never changes, we always get asked the same question:What are the 3 legs of the Triple Crown?
The answer is as follows: Kentucky Derby, Preakness Stakes, Belmont Stakes.
Since 1890s it has not been good enough to win only the Kentucky Derby, the featured race at Churchill Downs racetrack. To prove a horse's mettle, and to cement the owner, jockey, and trainer's name into the racing history books, a three year old horse must win three major races during the five week season: The Kentucky Derby – the first Saturday in May, The Preakness Stakes – the third Saturday in May at Pimlico racetrack in Baltimore, Maryland, and The Belmont Stakes – held in June at the Belmont Park track in Elmont, New York.
Perhaps the most grueling of all races is the Belmont Stakes race because a horse must run over the dirt track for a mile and one half. The Kentucky Derby is a mile and one quarter, while the Preakness Stakes runs over a mile and three sixteenth. It is interesting to note that horses such as the famed Northern Dancer, Carry Back and Alysheba won the Kentucky Derby and the Preakness, but did not win the Belmont Stakes to assure their royalty.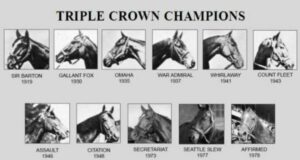 The very first horse to win the Triple Crown was Sir Barton in 1919 and not until 1930s were these three races referred to as the "Triple Crown." The more memorable horses have been Citation, Secretariat, Seattle Slew, and Affirmed. In all, there have only been 11 Triple Crown winners since Sir Barton, and no fillies have ever won. When speaking about "Big Red" also known as Secretariat and his spectacular win in 1973, it will most likely be in the record books forever that no horse was ever faster than he was. He set the world record and still owns it at running the track in two minutes and 24 seconds and 31 lengths in front of the closest horse behind him! Now that's a racing legacy!