Dortmund Kentucky Derby Betting Favorite
If you don't have a Kentucky Derby betting favorite yet then what are you waiting for?! The 2015 Kentucky Derby race begins in just over an hour's time and our current Kentucky Derby betting favorite is Dortmund. Dortmund is currently a 4 to 1 odds favorite to win today's Kentucky Derby.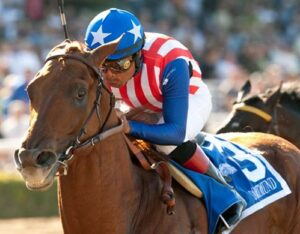 Dortmund is another one of Bob Baffert's horses. If that name sounds familiar that's because Bob Baffert is synonymous with the Kentucky Derby as a 3X winner and horse racing in general. Bob Baffert is a premier horse trainer. Just so there is no confusion amongst Kentucky Derby bettors, American Pharoah will start from the #17 post but will be wearing #18 and that is because Stanford is a scratch going into today's race. Just so you are aware and betting your money wisely, American Pharoah will look to be the first ever Kentucky Derby winner that started from the 17th post. There will be 20 horses racing in today's Derby race.
Dortmund will be closer to the rail than American Pharoah as Dortmund has gotten the #8 position. Dortmund's owner is Kaleem Shaw and was bred in the USA by Emilie Gerlinde Fojan. Dortmund comes from an excellent pedigree as the son of Big Brown. Big Brown won the Kentucky Derby just a few years ago back in 2008 as a 2/1 favorite. If you want to learn how to bet on Kentucky Derby online and bet on Dortmund in particular, check out the BetOnline Racebook as seen above now. When it comes to Kentucky Derby online betting you cannot go wrong on placing your wagers on a horse that comes from such fine pedigree as Dortmund does.