Popular Food and Drinks for the Kentucky Derby
Going into the 2015 Kentucky Derby every site online is talking about Kentucky Derby picks and predictions, but not us! Well, at least for today we are going to be talking about the lighter side of the Kentucky Derby. As much as the Kentucky Derby is known for horse racing, there's two other things it's known for: the fashion and the food. Although the race is "The Greatest Two Minutes in Sports," the festivities last several days, and with them come fabulous food and drinks. Let's talk a little more about what exactly attendees and revelers can look forward to.
The Mint Julep
The drink is practically synonymous with the Kentucky Derby. The Early Times Mint Julep Recipe has been a staple at the event for years, and there's more than 120,000 of them served. To make the recipe, all you'll need is 2 cups of sugar, 2 cups of water, sprigs of fresh mint, crushed ice, and Early Times Kentucky Whisky. There's also around 2,250 pounds of locally grown mint used.
Burgoo
Burgoo is a thick stew that is typically spicy, and it's a surefire favorite to serve for the Kentucky Derby. It's typically served with cornbread on the side. Considering it's been around for more than 150 years, there's a lot of recipes out there, including recipes that have stayed in families for generations.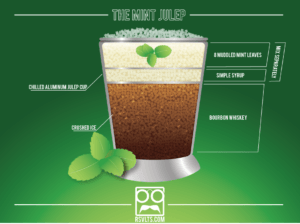 Hot Dogs
There's over 140,000 hot dogs served for the Kentucky Derby. They're easy to eat and they can be customized with a variety of different toppings, making them a very popular food item for the event.
The Kentucky Hot Brown
The hot sandwich, which was originally created at the Brown Hotel in Louisville in 1926, consists of several ingredients, including Texas toast without the crusts, roasted turkey breast, bacon, tomatoes, cheese, and more. Check here for the original recipe.
Bourbon Balls
The easy-to-eat dessert dates back to 1938 and involves using only a handful of ingredients such as chocolate, nuts, butter, confectioners sugar, semisweet chocolate, and of course, Kentucky bourbon.
Is your mouth watering yet? The aforementioned recipes are fantastic Kentucky Derby foods and drinks, but they're also easy to make, so whether you're attending the event, going to a party, or just watching the Kentucky Derby from your home in your pajamas, you can take part in Kentucky Derby betting and all of the fun festivities that come with the 2015 Kentucky Oaks & Derby this Saturday, May 2nd, 2015.