Tips for Attending 141st Kentucky Derby
Congratulations on attending your first Kentucky Derby! It's sure to be an exciting event, and one you'll always want to remember. To make the most of the experience, the following are just a handful of tips to keep in mind while you watch "The Greatest Two Minutes in Sports."
Know what you can and cannot bring
There's a whole list of items you can bring (purses smaller than 12", binoculars, water, etc) and cannot bring (backpacks, umbrellas, coolers, etc), so before you start packing your bags, make sure you check the list of items so you won't end up having anything confiscated.
Know your bets ahead of time
So the 141st KentuckyDerby is here and you need to get your bets in. If you don't want to wait in line then visit our reviewed Kentucky Derby online wagering sites. To make things easier on yourself, figure out your bets before you even arrive at Churchill Downs, and make sure you get your bets in as early as possible to avoid any seriously long lines or problems.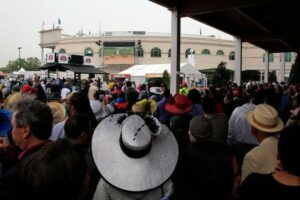 Get there early
Gates open at 8am EST, but there's going to be a line to get in, especially considering security checks. The earlier you get there, the earlier you can get in, place your bets, and grab a spot.
Check out the local businesses
There's plenty of businesses in the area that are going to be catering to the Kentucky Derby crowds, and it's only about 3 miles – or a 10-minute drive – to get to the downtown area of Louisville. It's a great time to see what the local businesses have to offer.
Try the standard Kentucky Derby foods
If you've never tried certain traditional Kentucky Derby foods and drinks, such as a Mint Julep or The Kentucky Hot Brown, there's no better time than during the event weekend!
Be prepared to walk
Parking at Churchill Downs is sold in advance, but there is a bus depot and a taxi depot that you can head to. Parking around the racetrack is going to be crazy, so you're better off parking a distance away and walking. In that case, make sure you pack comfortable shoes to wear for the walk.
Dress comfortably
Yes, many choose to wear beautiful outfits and fabulous hats to the Kentucky Derby, but whatever you choose to wear, make sure you also dress according to the temperature. Wear breathable fabrics so you don't overheat and sweat through your clothes, and consider bringing the aforementioned comfortable pair of shoes. Also, check out the dress code to ensure you're properly dressed depending on where you're sitting.
Do your research before you head to the Kentucky Derby and play by our KentuckyDerby betting strategy. The official site is chock full of useful information for visitors. The best piece of advice for attending your first Kentucky Derby? Have a designated driver!