What Makes the Kentucky Derby Special
To some, the Kentucky Derby may just seem like a standard horse race, but it's so much more. It's a special event that dates back all the way to May 17, 1875, and it's filled with history and tradition. If you're still wondering what all the fuss is about, the following are just some of what makes it so special. Taking part in Kentucky Derby online betting also makes it special, but then again betting on any sporting event makes it more special.
The History
From the moment Aristides crossed the finish line during the first race of the Kentucky Derby, the historic moments have just been accumulating. Those who are interested in the history of the event can stop by the Derby Museum, which features interactive exhibits, a permanent exhibit featuring African Americans in Thoroughbred Racing, and more.
The Traditions
There's so many traditions associated with the Kentucky Derby, including the Garland of Roses, the oversized hats, drinking Mint Juleps, and singing "My Old Kentucky Home." The more you embrace the traditions, the more fulfilling and authentic your experience might be.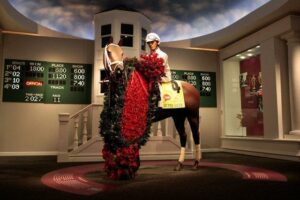 Kentucky Derby Fashion
The fashion is fabulous at the Kentucky Derby, and it's certainly one of the more special aspects of the event. Pastels are big – even amongst the guys – as are seersucker suits, short spring-inspired dresses, and large flowery hats. Consider it a dress to impress event at Churchill Downs.
The Food and Beverages
From Mint Juleps to Burgoo to Bourbon Balls, the food and drinks of the Kentucky Derby are phenomenal. Bring your appetite so you can try at least a little of each!
The Excitement
There's a reason the Kentucky Derby is called "The Most Exciting Two Minutes in Sports." The anticipation builds, and once the horses leave the gate, it's all out pandemonium and excitement. Once the winner crosses the finish line, there's an even bigger burst of energy and celebration and a continuous buzz of energy throughout the rest of the day. It's certainly worth experiencing.
The Kentucky Derby is one of the more special sporting events to take place throughout the year, so if you have some time available (you only need two minutes) then we urge you to watch the 141st Kentucky Derby on Saturday, May 2nd, 2015.