Why the Triple Crown Captures Attention
Horse racing has a dedicated following of supporters – those who purely love the sport, as well as those who love the wagering element – but it is not on the same level as other major sports like baseball or football. However, each spring, the chase for the Triple Crown captures attention and the running of the Kentucky Derby, Preakness Stakes, and Belmont Stakes becomes a big event. Media coverage for horse racing peaks each year at the Triple Crown stops, so clearly the pursuit of this elusive title is something that draws plenty of interest.
Beyond the simple beauty and power of horse racing, the sheer difficulty of this quest is what makes it so intriguing to watch. No horse has won the Triple Crown since 1978, so it will be a momentous occasion should it happen again. Each year there are winners of the championships in each of the major sports, but no horse has been a Triple Crown winner in more than 30 years. That alone makes it an event worth watching.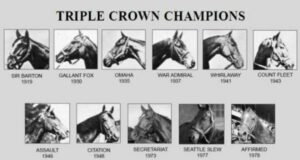 Beginning with the Kentucky Derby 2015, the Triple Crown chase will be on once again. Immediately, the chase will be down to just one horse, as only the Kentucky Derby champion will have the opportunity to claim the prize. If that horse is able to successfully grab the Preakness Stakes, the attention will greatly increase as the horse heads to the Belmont Stakes for the final leg. Several horses in recent years have managed to secure the first two wins, only to fall short in New York. If the winner of the Kentucky Derby 2015 is able to make it all the way through and take the Triple Crown, it will surely be one of the highlights of the sports year.