How Long is the Kentucky Derby
One interesting element of horse racing is the varied lengths of the different tracks and races that take place all across the country. Even within the Triple Crown, each of the three races is a different length. The various lengths of the races will favor different horses, as some horses are better with a shorter 'sprint' while others are built to run fast for a long period of time. Knowing the length of the race at hand is one of the keys to wagering successfully at the track.
The Kentucky Derby is a 1 ¼ mile race, which is also 10 furlongs. The race is held on a dirt track, and the record for the fastest ever time is 1 minute, 59 2/5 seconds by Secretariat in 1973. The Preakness is slightly shorter than the Derby, while the Belmont is the longest of the three Triple Crown events. It is commonly believed that the long distance of the Belmont is one of the biggest reasons why so few horses have successfully won the Triple Crown. Horses who are built for the length of both the Derby and the Preakness don't necessarily match up well on the longer Belmont run.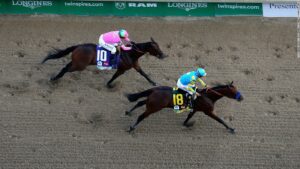 Often called the 'Fastest Two Minutes in Sports', the Kentucky Derby is an incredible display of athleticism from some of the greatest horses in the world. It is incredible to think that these animals can cover more than one mile of distance in just two minutes, but that is exactly what they are able to do. If you are able to visit Churchill Downs in person for the Derby, you will certainly be awed by the power and majesty of these amazing animals.