Bet This Horse if You're "Always Dreaming" of a Big Payday
It's the final stretch of the futures wagers for the Kentucky Derby and many horse bettors believe that that they can score a massive payday by locking in lucrative betting odds for these horses. When you wait until post time to bet on horses at the race book, you'll get whatever the current odds are for that horse. When you lock in your futures bet at a sportsbook such as Bovada.lv, you'll be able to hit lucrative odds when your horse wins.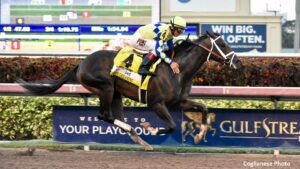 Which horse will win the Kentucky Derby? According to many professional horse handicappers, the Kentucky Derby race should be won by Always Dreaming. Experts say that this horse is continuing to get better as the Kentucky Derby approaches and many believe that this is trainer Todd Pletcher's Kentucky Derby to lose. Many handicappers were impressed by Always Dreaming's latest workout in which the horse looked poised, confident and dominant.
Currently, Bovada has giving horse bettors 5/1 betting odds on Always Dreaming. As more press begins to build behind Always Dreaming, those odds may fall if you are using parimutuel betting websites. If you are always dreaming of a big payday, including Always Dreaming in your Kentucky Derby picks is a worthwhile shot.