Favorites Lose in Kentucky Derby 143 Prep Races
Favorites Lose in Kentucky Derby 143 Prep Races
The Road to the Kentucky Derby is a point system that provides racing spots for the top 20 horses. Horses that finish in the top 20 are eligible to start in the Kentucky Derby. The Road to the Kentucky Derby features several prep races in which Kentucky Derby favorites accumulate points in order to achieve rankings on the leaderboard.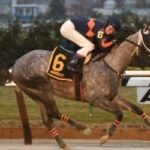 In most qualifying events for past Kentucky Derby races, favorites have been successful in winning these races therefore giving them an edge in the points standings. This year, favorites and/or Kentucky Derby contenders have not been successful in winning the Kentucky Derby qualifying races, which has shuffled up the expected top 20 horses going into the 143rd Kentucky Derby. 
For example, the New York Times recently wrote a report on all of the favorites who have been failing at these qualifying races. The report details how Mastery is no longer going to be able to run in the Kentucky Derby and it also details the emergence of Gormley as the betting public's favorite horse. 
Still, horses such as Girvin have amassed enough points to take lead in the Kentucky Derby race. Just a few weeks ago, Girvin wasn't even in the conversation for the Kentucky Derby in 2017. Another recent addition to the top 5 is Irap and Thunder Snow.
Could a long shot pull off this year's Kentucky Derby? Cash in on all the fun on a trusted sports book that offers 2017 horse race betting odds.