List of Kentucky Derby 143 Celebrities Revealed
The Kentucky Derby attracts the who's who of sports, music and pop culture. The annual Barnstable Brown Kentucky Derby Eve party has just announced its guest list and it contains some pretty notable attendees. Since these attendees will be at the Derby Eve party, you can bet on them attending the big race the next day.
A-List NFL players such as Tom Brady, Rob Gronkowski and Aaron Rodgers are confirmed to in attendance at the Derby Eve party this year. 
CBS News anchor Katie Couric will is also confirmed to be attending the event.  Popular music artists such as Kid Rock, Boyz II Men, Sammy Hagar and Travis Tritt will be attending Kentucky Derby 143 this year.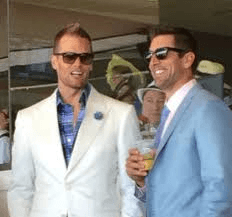 The PGA is being represented quite well with professional golfers Rickie Fowler, Justin Thomas and Jimmy Walker all set to attend the Kentucky Derby. 
Icons of pop culture will be attending the Derby this year. Tracy Morgan, Justin Hartley, and Larry Birkhead (Anna Nicole Smith's former lover) and Larry David will be representing Hollywood at Churchill Downs.
The Kentucky Derby is a cultural event that attracts everyone from Hollywood stars, music stars to the average joe. Best of all, if you can't make it to the Kentucky Derby, you can bet on the races from your PC, mobile device or tablet.