McCraken Kentucky Derby Wagering Odds
Kentucky Derby 2017 Horse Previews: McCraken wagering odds for the 143rd Run for the Roses.
Could McCraken win the Kentucky Derby in 2017? Many expert horse racing handicappers say that McCraken could be a smart money bet going into the 2017 edition of the Kentucky Derby.
McCraken is won his last 4 races. Three of those races were run at Churchill Downs. Many thoroughbred handicappers see McCraken as a co-favorite to win the Kentucky Derby. In fact, many futures pools have McCraken listed at 10/1 betting odds for the 2017 Kentucky Derby on Saturday, May 6th, 2017.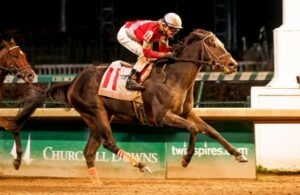 McCraken is listed as probable for the Tampa Bay Derby on 3/11/17. This might be McCraken's first real test before the Kentucky Derby. If McCraken can win in Tampa, you can expect his online wagering odds to drop dramatically. 
 
McCraken is owned by Janis Whitham and trained by Ian Wilkes. McCraken is known as a closer, therefore if McCraken doesn't get off to good start, there is no need to worry. When rounding the final turn at Churchill Downs, if McCraken breaks outside the pack, he could separate himself and win the Derby in dramatic fashion.
Many horse handicappers use the "Courses for horses" strategy. If McCraken's continued success at Churchill Downs is any indicator, placing a small wager on McCraken to win the Kentucky Derby might prove to be a profitable bet.