Castellano To Ride Audible At Kentucky Derby
Breaking news for Kentucky Derby bettors looking to wager on Audible this coming Kentucky Derby. When it comes to winning the Derby, having the right jockey is as important as having the right horse. This week, Todd Pletcher just improved the odds of his horse Audible winning the Kentucky Derby. Hall of Fame jockey Javier Castellano announced that he would be riding Audible at the Kentucky Derby this year.
"I feel like I need to be with Todd," Castellano told DRF.
With Castellano announcing his intention to ride Audible, it means Bolt d' Oro is without a jockey. Bolt d' Oro finished second to Justify at the Santa Anita Derby.
Kentucky Derby Betting Online Lines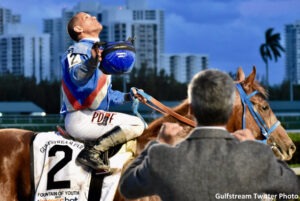 However, Mick Ruis, who owns and trains Bolt d'Oro, already had a backup plan if Castellano decided to leave, and is said to be focused on landing Victor Espinoza, who is considered to be an upgrade considering the fact that Castellano has no Kentucky Derby wins, while Espinoza has won the Derby three times, has won seven Triple Crown races, and won the Triple Crown while riding American Pharoah in 2015.
Xavier Castellano Audible Wagering Odds
The only problem with Ruis' plan will be convincing Espinoza to join his team. At 45-years-old, Espinoza was the oldest jockey to win the Triple Crown, and since he achieved the feat in 2015, he hasn't been as active as he was in his younger years.
Having a horse like Bolt d'Oro might help convince him to give the Triple Crown one more crack, but it won't be easy, especially since he has a great relationship with Bob Baffert and might not want to team up with another trainer.
However, if Ruis can convince Espinoza to ride Bolt d'Oro at the Kentucky Derby, it will make the horse the favorite to win the Derby because it is hard to bet against Espinoza at the Kentucky Derby when he has one of the best horses in the field.