Does Runaway Ghost Have A Chance To Win The Kentucky Derby
In 2009, Sunland Park's Mine That Bird pulled off one of the biggest upsets in Kentucky Derby history. Mine That Bird won the first leg of the Triple Crown despite his 50-1 2018 Kentucky Derby betting odds. This year, Sunland Park's local horsemen will be hoping for a similar upset when Runaway Ghost runs at the 2018 Kentucky Derby. Current Kentucky Derby online betting odds have Runaway Ghost sitting at +3000.
On Sunday, Runaway Ghost won the Grade 3, $800,000 Sunland Derby, which all but guaranteed him a spot at this year's Derby, giving his trainer confidence about his chances to win the Kentucky Derby.
"We know he's legit," said trainer Todd Fincher. "The problem with him is he's a little headstrong early in the race. We knew with an outside draw that we could get the horse to relax better. It worked out exactly like we thought."
2018 Kentucky Derby Betting Odds
Runaway Ghost's owner was very impressed with the win and called the horse the best thoroughbred he has ever had, which is very high praise.
"I'd have to say he's No. 1 of the Thoroughbreds I've ever had," said veteran owner and breeder Joe Peacock. "I'd go as fast as I could," he added of a trip to Churchill Downs.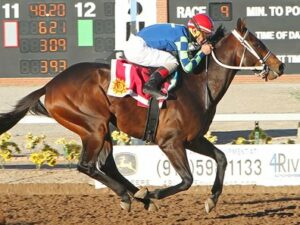 Runaway Ghost had 7-2 odds to win the race, but didn't get out to a fast start thanks to All Out Blitz. Blitz set the early pace, getting the opening half mile in 45.80 seconds.  Runaway Ghost sat near the back of a tightly bunched pack up the back stretch.
"We had a long run to the first turn," Fincher said, "and I figured we might be a little wide, but that would be better than a horse laying on us, forcing us to the front or forcing our hand. We wanted to let the horse run his own race, and it worked out perfectly."
Runaway Ghost is now 4-2-0 in his seven starts, and will look to improve the record at the Kentucky Derby.