Gronkowski to Race in 144th Kentucky Derby
Not Rob Gronkowski the player, but rather Rob Gronkowski the horse will race in the 144th Kentucky Derby. The horse is named after New England Patriots Tight End.  Gronkowski is one of the most popular players in the NFL considered to be one of the greatest.
European based horse trained by Jeremy Noseda will be hoping the Gronkowski name brings him some luck at the Derby.
Over the weekend,, Gronkowski, moved past Mendelssohn on the European Derby leaderboard. This means he will a spot in next month's Kentucky Derby.
Funny Names at the Kentucky Derby
It has become somewhat of a tradition in horse racing to have uniquely named horses running in the Kentucky Derby.  The 144th Kentucky Derby will be no different.
"We've had this dream, and now the dream is alive," Noseda said after the horse's victory.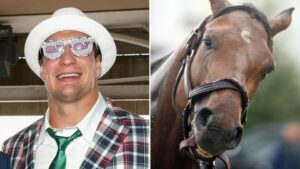 Phoenix Thoroughbreds' Kerri Radcliffe, which owns Gronkowski, said his height — the same as the Patriots star (6-foot-5) — and size of the horse made it an appropriate name.
"I love the New England Patriots, and as Rob Gronkowski is 6-5 and about the same width, I thought it would be an appropriate name for the horse, as he's built much the same," Radcliffe told the Racing Post last month.
Gronk has lived up to expectations so far, finishing first in his last four races, two of which came in March.
"It sounds strange, but I haven't yet seen on the racetrack what I believe this horse is capable of. I'm sure there's more to come," Noseda said.
Gronkowski's rival on the European trail, Mendelssohn, will compete against him in the Kentucky Derby after qualifying for the event by winning the Dubai World Cup on Saturday.
Gronk has attended the Kentucky Derby in the past with teammate Tom Brady. However, it is unclear if Gronk will make the trip to Churchill Downs this year. Since there is a horse named after Gronk participating in the event we might seee him.