Justify Joins Kentucky Derby Favorites
Another horse joined the list of Kentucky Derby favorites this week after Bob Baffert trained horse Justify blew away the competition at the Santa Anita Park's fifth race, a one-mile allowance going around two turns. Justify has now become one of the new favorites for Kentucky Derby online betting.
Justify, who entered the race at 1-9, ran the opening half mile in 45.10 seconds, and finished up the race in 1:35.73 over a muddy track.
TVG analyst Simon Bray said Baffert "couldn't have scripted" the race any better, but added that due to lack of any challenge, the "next prep is going to be very important for him. Baffert likes his horses to have hard races. That's how he trains."
Updated Kentucky Derby Betting Favorites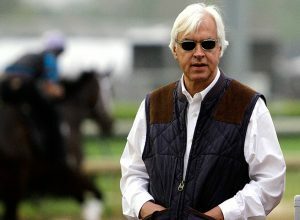 With a little over a month away from the 2018 Kentucky Derby it is time to focus on the latest Kentucky Derby favorites. Bray wasn't the only analyst to heap praise on Justify. His colleague Caton Bredar said "When you see a horse as lightly raced as he is — granted, he was supposed to win — but it was the way he did it, the way he settled…with the stretch out there. I'm a believer."
With Justify's impressive showing, he not only became a favorite to win the Kentucky Derby, he drew comparison to some legendary horses.
"I hate to compare him to other horses right now, but doesn't he remind you of an Easy Goer way back in the day?" jockey Mike Smith said. "Just a big ol' red horse with a big, powerful stride. The distance didn't seem to bother him. I know that was just a mile but he could have galloped out another quarter of a mile if he had to. There's a lot of potential there."
Despite the hype and praise he received over the weekend, Justify still has to prove he can dominate when facing the best competition. If he performs well at the Santa Anita Derby, which is a G1 race, he will be one of the horses to look out for at the Kentucky Derby.