Omaha Beach Pulls Off Impressive Win At Arkansas Derby
Before Saturday's Arkansas Derby, Omaha beach was clinging to one of the last available Kentucky Derby spots. After the race, he emerged as one of the betting favorites to win next month's Kentucky Derby after an impressive win over Bob Baffert-trained Improbable.
After Saturday's win, Omaha Beach will likely be the favorite to win the Kentucky Derby because he has defeated two of the three top Baffert trained horses, Improbable and Game Winner, who had previously been the betting favorites to win the Derby.
"I was hoping he'd hang in there (in the stretch), and he surely did," said trainer Richard Mandella. "He's learned to fight it out."
Omaha Beach has now won his last three starts and will be going for his fourth consecutive win at Churchill Downs in 19 days.
"I think the horse certainly fits with the other horses. We'll see how he comes out of the race and see how things are going. We'll decide, probably, tonight (regarding the Kentucky Derby)," owner Rick Porter said.
Betting Favorites to Win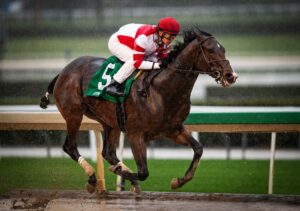 Omaha Beach started to get some attention after defeating Game Winner at the Rebel Stakes last month.
"Since the Rebel, he has grown and is bigger," said Mandella, who is 0-for-6 in the Kentucky Derby, with a fifth by Soul of the Matter in 1994 his best finish. "Either that or the mud is making him look bigger, I'm not sure which, but we're sure excited. I hope he stays as good as he's been, because he has improved all year long."
Despite finishing second, Baffert was pleased with what he saw from Improbable.
"(I was) happy with the way he ran," Baffert said about Improbable. "I was a little bit worried in the starting gate. He was acting up in there. I had a few moments there of maybe he was going to rear up or do something and get left. Luckily, they unloaded him and put him back, and he left there well. I thought Jose Ortiz did a masterful job of riding him. We got beat by a good horse. They showed how these California horses are good horses."