War of Will Expected To Run At Belmont Stakes
Looking for War of Will Belmont Stakes odds? Mark Casse trained horse, War of Will, took advantage of a Preakness field. A field that didn't involve any of the top four finishers at the Kentucky Derby. WW won this year's Preakness Stakes. Even though there won't be a Triple Crown winner this year, Casse told reporters War of Will is going to run at the Belmont Stakes. Cassed citing the historic importance of the race.
"There's only three Triple Crown races." Casse said. "Also, they're pretty important. I think if you can do it, you should do it."
Casse also reminded the reporters that Classic Empire was the runner-up at the Preakness Stakes in 2017. Also, he would have entered him in the Belmont Stakes if he didn't get injured.
"That's us. That's what we do. We run," the trainer said.
The trainer also credited the horse's temperament for his success on Saturday.
"If you were walking him and you dropped the shank, he would probably stand there and look at you," Casse said Sunday morning, basking in the colt's Preakness Stakes victory. "I don't think he would go anywhere. But he has good energy.
Belmont Stakes 2019 Online Betting Odds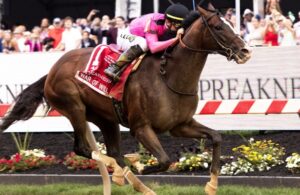 Therefore, Casse added that he was impressed with the way War of Will handled the opposition at the Preakness, especially after he was challenged.
"For our horse to continue, he was pretty close to the pace, and it was hot," Casse said. "I liked the fact that even afterwards when they were galloping out, he took off again."
"He's tough and able to overcome things," Casse said. "You probably saw yesterday — the Derby was very, very trying, and I was worried about that with him."
"Now it's just a matter of him saying he doesn't want to go," he added, "and that would just be that he was lethargic training."
In conclusion, War of will is expected to leave Maryland for Lexington, Kentucky on Monday to begin training for the Belmont Stakes.