Rosario to Replace Rispoli in Kentucky Derby
Jockey Joel Rosario will ride Santa Anita Derby winner Rock Your World in the Kentucky Derby Presented by Woodford Reserve May 1 at Churchill Downs, replacing jockey Umberto Rispoli.
In a radio interview, trainer John Sadler acknowledged the difficult decision. This to make a rider change was his.
Rock Your World, who is undefeated in three starts all at Santa Anita Park, was ridden to victory by Rispoli in the April 3 Santa Anita Derby and Feb. 27 Pasadena Stakes, while Rosario rode him in his debut Jan. 1.
Rosario is the regular jockey for Concert Tour. A Bob Baffert-trained horse who won the March 13 Rebel Stakes at Oaklawn Park and returned to finish third in the April 10 Arkansas Derby there. Baffert told Churchill Downs Saturday that Concert Tour would bypass the Kentucky Derby and wait for the May 15 Preakness Stakes.
Rosario Vs. Rispoli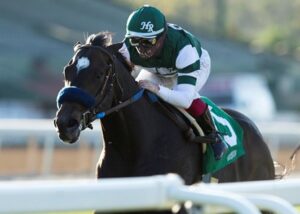 "Let's be very clear here, I was rooting for Concert Tour to win the Arkansas Derby and (then) this is all a non-conversation," Sadler said. "We decided to wait until after the Concert Tour race. This to see what was going to happen and nobody could've predicted that (a third-place finish), really. I mean, he was 1-5 or whatever and then he didn't run on.
"So, when Joel came available … You know. These are agonizing decisions. And not easy. I want to be very clear, I think the world of Rispoli and I think the world of his riding. He's a terrific rider on our circuit and he's been a great addition to California and will continue to be. But, I had to make a call and this is the call I made … History will tell whether I'm right or wrong. Things could go bad, you know, overnight in this game, but this is the decision we made for this race, so you know, we have to live with it and go forward.