Run Classic Derby Betting Lines
Happy St. Patrick's Day! Today we will preview Run Classic derby betting lines. Tom Durant acquired Run Classic at a 2-year-old in training sale during March 2020. The price could've been higher, said trainer Bret Calhoun, who was working with Durant on sales scouting.
"We thought he was the standout of the whole sale," Calhoun said. "I think in the end the pedigree scared some people away."
Run Classic is by the young, unproven sire Runhappy, a Breeders' Cup Sprint winner whose offspring, after a slow start, are showing signs of life.
"He's not bred like a route horse, but look at him," Calhoun said Saturday morning, showing Run Classic, who had arisen from a nap in his stall, to a visitor.
Run Classic Derby Betting Lines 2021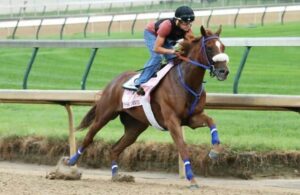 Run Classic has a long barrel and long legs. He finished a troubled second sprinting in his career debut and won a two-turn maiden race second time out like a horse with ample middle-distance stamina, impressing his connections enough to earn a chance in the $1 million Louisiana Derby at Fair Grounds on Saturday.
Two years ago, Calhoun won the Louisiana Derby with a horse coming off a maiden win, By My Standards, who did have four races, three going two turns, compared to Run Classic's two. By My Standards got an 86 Beyer in his maiden win and jumped to a 97 in the Louisiana Derby; Run Classic got an 85 for his Feb. 13 victory. His works on March 4 and March 12 were fast, five-furlong drills that were nearly the fastest on each morning, and Calhoun said it was not only the speed at which Run Classic worked but the manner of his breezes that offers encouragement.
"We know it's a lot to ask, but this horse is just doing so well right now," Calhoun said.