Updated Kentucky Derby Favorites
Leading up to the 2021 Kentucky Derby, Bob Baffert-trained colt Life is Good was considered the favorite to win the Derby. Updated Kentucky Derby favorites below. However, a hind-end injury he sustained after training on Saturday has forced Baffert to rule him out of the Triple Crown.
Firstly, with the favorite no longer participating in the Kentucky Derby. One Las Vegas sportsbook made Concert Tour and Essential Quality the new 9-2 co-favorites to win the Kentucky Derby. Check out odds below.
Secondly, Circa Sports reposted its futures about four hours after the news broke about Life Is Good's training setback, and a half-hour after Hot Rod Charlie pulled off an upset win in the Louisiana Derby.
"Obviously, Life Is Good was our definitive favorite," said Paul Zilm, risk supervisor at Circa. "Him being injured. Now off the Derby trail changes the picture completely. We had significant liability to him, but you hate seeing an injury sideline such a promising looking horse."
Life Is Good had been 3-1 at Circa and 7-2 at William Hill Nevada. This before a left-hind issue was diagnosed after his workout Saturday morning at Santa Anita.
2021 Updated Kentucky Derby Favorites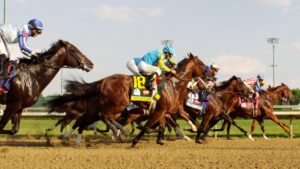 Even though the three-year-old is expected to miss all three Triple Crown races. Bob Baffert still has a co-favorite for the Derby in Concert Tour. Reigning Eclipse Award winner Brad Cox looks after Essential Quality. What comes next?
Greatest Honour, the likely favorite in next Saturday's Florida Derby, is now the third choice at 9-1 to win at Churchill Downs.
Hot Rod Charlie turned in a victory at Fair Grounds on Saturday that led Circa to shorten him from 26-1 to 9-1, the fourth choice in its Derby futures.
Therefore, "We have significant liability to him already," Zilm said. "I was impressed with his run. He took advantage of a great break."
In conclusion, Concert Tour had been 5-1 and Essential Quality 6-1 before Life Is Good's injury.
"Both are deserving of being co-favorites on what they have done on the track and the support they have seen from bettors," Zilm said.