Classic Causeway Kentucky Derby Betting
Trainer Brian Lynch suspects Classic Causeway might have displaced his palate in his last race, perhaps accounting for the colt's poor performance, so the trainer is tweaking a couple of things. Up next, Classic Causeway Kentucky Derby betting odds.
"We've always kept things very, very simple. With him by running him in a snaffle [bridle]," said Lynch, who on Saturday will saddle Classic Causeway for owner-breeders Clarke Cooper and Patrick O'Keefe in the 148th Kentucky Derby at Churchill Downs.
"But I felt like he may have displaced in the Florida Derby," describing a common condition wherein a horse's soft palate will drift upward to sit atop the epiglottis to partially obstruct the trachea and restrict air flow. "When he was scoped after the race, he was displacing repeatedly but correcting himself. Maybe in the race he did get entrapped for a little bit, we don't know."
Current Classic Causeway Kentucky Derby Betting Odds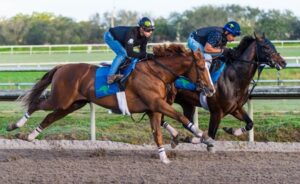 For the Kentucky Derby, Classic Causeway will be equipped with a dropped noseband bridle. Which sits lower on the nose and encircles the chin groove in front of the bit. The noseband can help to keep a horse from opening its mouth and crossing its jaw by increasing pressure lower on the nose. This is combined with a tongue tie, which Classic Causeway also will have for the first time for a race. A tongue tie keeps a horse from moving its tongue excessively; some trainers believe it helps prevent a horse from flipping its palate. Furthermore, he will be free.
Lynch admitted to being down and puzzled following the Florida Derby. However, early Monday he was back to his cheerful self.
"The horse is doing good," he beamed. "Five days out and doing good."